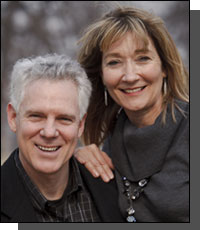 Charles & Sheila Michie


Empowerment Enterprise facilitates breakthrough .... breakthrough in productivity and effectiveness for organizations, groups, and individuals.
Our passion -- to bridge people with their individual and collective potential.
We'll help assess your needs, issues, or concerns and develop a roadmap for dynamic growth.
Our gifts are in creating learning environments where unrecognized talents and perspectives are shared, corporate visions are renewed and problems are solved through teamwork. Work relationships are enhanced. Communication is productive and made clear. Your team is empowered for increased commitment and leadership.
We work with both organizations and individuals to facilitate learning and growth. We do so through improvement processes and experiences of meaningful adventure, focused reflection, and recording new discoveries, offering:
Strategic Planning, Experiential Training Programs and Workshops, Group Retreats, Community Building, Leadership Development, Communication, Strengthened Relationships
Learn More
Programs are customized to meet specific requirements for each audience. We want to be your resource, to assist you as organizational changes, issues and challenges emerge.
Contact us now for a complimentary consultation
and mobilize your team toward common goals.
* * *
---
An Opportunity for Transformation
Empowerment Enterprise
Explore our programs and contact us for a complimentary consultation.
Charles Peyton Michie
Sheila Grant Michie